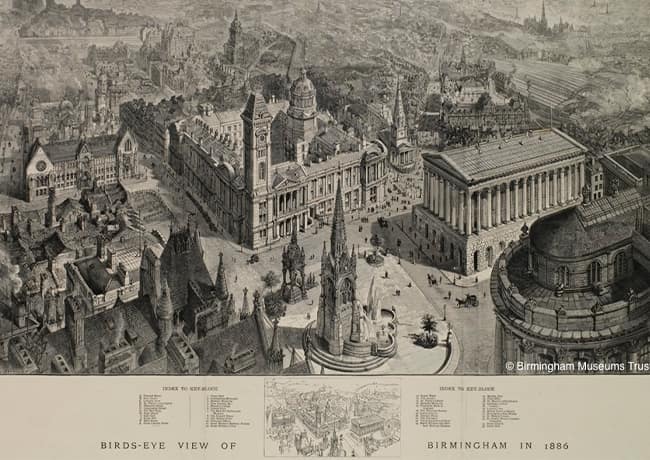 During the 19th century, Birmingham was developing at a rapid pace. This image of Chamberlain Square and surrounding area is from 1886. It bears many similarities with the area today but until the 1870's the principal buildings in the square were the Town Hall and Christ Church. At that time the Town Hall was conspicuous from all parts of the town.
The Cabinet of Curiosities: Now the Site for the Council House
The largest building in the image is the Council House. It was built on an area known as Ann Street, a place of shops including a clothes shop known as the "Cabinet of Curiosities". The land was purchased in 1853, but due to lack of funding work was delayed until 1874. The then mayor, Joseph Chamberlain, laid the first stone. Work was finally completed in 1879.
The Free Church
To the right of the Council House, behind the Town Hall, is Christ Church. It was built in 1805 by public subscription and aimed to provide additional capacity as the town expanded. Many pews in surrounding churches were already rented but Christ Church also provided free seating on the lower level. This lead to it being known as the Free Church. It was demolished in 1899 when many of the towns' residents moved to the suburbs and attendance at church decreased.
Joseph Chamberlain Remembered
The Chamberlain monument can be seen in the foreground of the picture. It was erected in 1880 in recognition of public service Joseph Chamberlain gave to the town and gives rise to the name Chamberlain Square. Initially a manufacturer of screws, Joseph Chamberlain became involved in local politics. He subsequently became Mayor of Birmingham before moving onto national politics. He started as a radical member of the Liberal party but sided with the Liberal Unionists in 1886 over the issue of Irish home rule. Later in his career, when the Liberal Unionists were in coalition with the Conservatives (a party he once despised), he accepted the position of Secretary of State for the Colonies.
St Philips Church Just Visible
Behind the Council house, with its domed top, is St Philips church (now the cathedral). It was built between 1711 and 1725 on agricultural land known as Horse Close or Barley Close. The land was bought at a favourable price from the Inge and Phillips families, with the latter giving their name to the church.
This information was gathered as part of the research for the Ambition & Destiny series. Click here to find out more.
Back to The Victorian Era