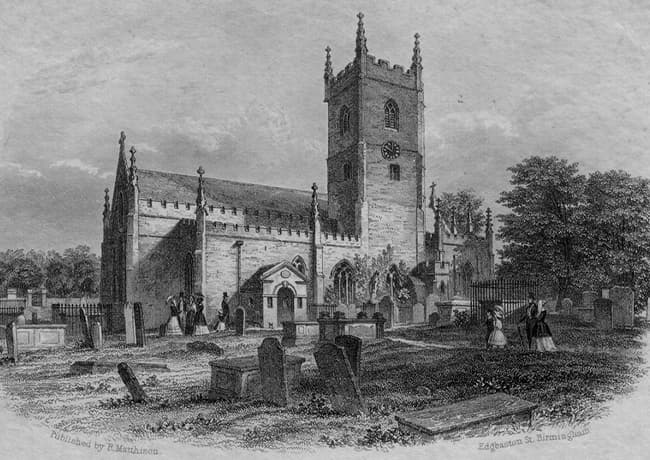 Handsworth Church (St Mary's Parish Church) is an ancient building first documented in 1200. The original church was built of red sandstone. The oldest remaining part of the church is the tower, which contains six bells. It is based on the style of the time of Edward III (1327-1377).
The church was partly rebuilt and enlarged in 1820, using a composition stone, but by 1875 it was felt that further work was needed. Parts of the church, most notably the roof and the mullions over the windows, had been found to be unsafe and the size and layout made it too small for the growing population of Handsworth and Handsworth Wood. It was also thought that the 1820 work was in poor taste.
The Victorians Wanted More 
Restoration work was undertaken between 1876–1878, included:
rebuilding most of the church (with the exception of the tower)
rebuilding and lengthening the 14th-century south aisle
replacing the two south windows with four new windows
replacing the two-bay south arcade with one of four arches.
extending the nave and north aisle westwards
extending the chancel eastwards,
constructing an arch between the north chapel and north aisle
building a new outer north aisle
The restoration took two years and exceeded the budget by more than a third, coming in at nearly £14,000 (equivalent to approximately £1.5 million in 2015). Much of the money was raised through subscriptions.
Records show there was universal praise for the new church's proportions and appearance. It was blessed with a lofty, open timbered roof and graceful pointed arches although because of a shortage of money, plans for additional, high level, windows had to be abandoned.
Since the 1876 restoration, Handsworth church has changed little. It contains a number of old historic and honoured monuments including memorials to Matthew Boulton and James Watt.
This information was gathered as part of the research for the Ambition & Destiny series. Click here to find out more.
Back to The Victorian Era