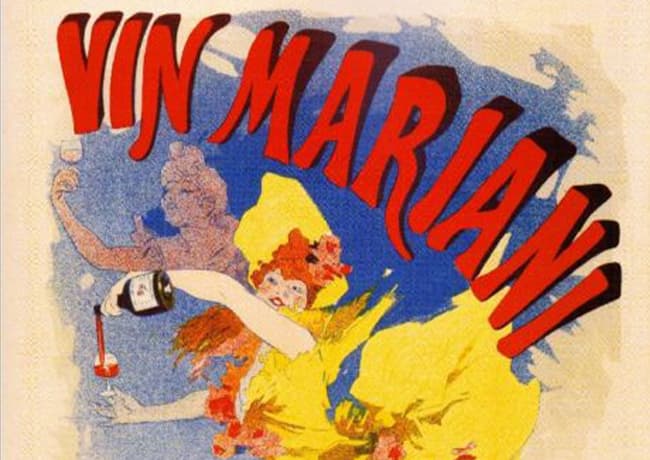 Vin Mariani, was a recreational cocaine product, which arrived on the market in the late 19th century. It was the first product of its kind and, described as a health tonic rather than a medicine, was widely advertised and used as a cure for most ills.
In essence, the tonic was a red wine from the Bordeaux region of France that had been infused with cocaine. It's creator, the French chemist Angelo Mariani, had been inspired by the work of an Italian physician by the name of Paolo Mantegazza. Mantegazza was a widely traveled man and during a stay in South America became the first to extract cocaine from coca leaves using ethanol. The alcohol acted as a solvent, and by extracting the cocaine from the leaves, it also altered the drink's effect.
Mantegazza subsequently wrote about his work and the psychological effects of cocaine. This work was of great interest to Mariani who opted to combine coca leaves with red wine to create Vin Tonique Mariani (or Vin Mariani for short).
Mariani kept the formulation secret but it was believed the drink (initially) consisted of 10% alcohol and up to 8.5% cocaine, which was to be taken as 2-3 glasses/day. (It was later discovered that at some point, Mariani began fortifying the wine giving it an alcoholic content nearer 16% proof). The original recipe was patented in 1863 and took his hometown of Paris by storm. Before long Mariani was the biggest importer of coca leaves in Europe and by the mid-1880s, his tonic had spread across Europe and was being endorsed on both sides of the Atlantic.
Medical claims
It didn't take long for the medical community to hail cocaine as a wonder drug. The delicious concoction promised to heal whatever ailment the user suffered and provided a welcome energy boost.
The effects of the drug appeared after a single dose and small amounts made the user feel euphoric, energetic, talkative and mentally alert. It also temporarily decreased the need for food and sleep. Users reported that cocaine could help them perform simple physical and intellectual tasks more quickly, although this effect wasn't seen in everyone. When consumed with alcohol the euphoric actions of the drug became more pronounced.
Mariani began advertising his tonic as something that would restore health, strength, energy and vitality to all who took it and before long, there weren't many who didn't believe him.
Advertising / endorsements
One of the principal reasons for the success of Vin Mariani was the incredible lengths Mariani employed to advertise his product. He aimed his early advertising campaigns mainly at doctors and he would send them free wine samples, asking that in return they send him an endorsement for his product.  By the beginning of the 20th century, he had received letters of praise from more than 8000 physicians.
Mariani was also the first to collect celebrity endorsements, which he used to promote the product. He is reported to have sent a case of his tonic to every famous person he could find and those who publically endorsed his tonic included Thomas Edison, H.G. Wells, US Presidents William McKinley and Ulysses S. Grant, three popes, and sixteen kings and queens including Queen Victoria of England. Perhaps his greatest endorsement, however, came when Pope Leo XIII gave him a Gold Medal to recognise that he 'fully appreciated the beneficent effects of this Tonic Wine'. The Pope also appeared alongside an advertisement for the product in a London newspaper in 1899.
With his endorsements in place, Mariani ran countless newspaper and magazine advertisements and also printed scientific brochures and monographs, which he distributed free of charge to physicians.
Newer Brands
Mariani's wine was such a success that it inevitably led to many imitations. It wasn't long, however, before there were complaints that the alternative products were not as effective as the original and led Mariani to campaign to ensure physicians and patients only used his tonic.
One imitation that did manage to compete with Vin Mariani was "Pemberton's French Wine Coca" developed by an American pharmacist named John Smyth Pemberton. When it came to the market in 1885, Pemberton's tonic used a similar formulation to Mariani's and with its alcoholic formulation, it did moderately well. It wasn't long, however, before changes to local legislation in the US threatened the existence of these tonics, and in an attempt to stay one step ahead, Pemberton changed his formulation.
End of an era
In the same year that Pemberton unveiled his product, his home county of Atlanta and Fulton passed legislation enacting local alcohol prohibition. It was to take effect in 1886, which gave Pemberton time to remove the alcohol from his drink. His new alcohol-free wine coca subsequently became known as Coca-Cola.
Mariani's refusal to change his product, however, ultimately led to his downfall. By the start of the 20th century, not only were people's attitudes to alcohol changing, people's love affair with cocaine was also coming to an end. People who had been using opiate-based drinks for everything from treating coughs to helping their children sleep, began to realise that drinks like Vin Mariani weren't wonder drugs. With many people hopelessly addicted to them, doctors came to the conclusion that giving the drink to children was killing them. Soon after, governments all over the world began taking steps to ban all such products, including Vin Mariani.
In 1906, the United States passed the Pure Food and Drug Act to regulate the labeling of cocaine and heroin based products. This should have forced Mariani to tone down his over-the-top health claims, along with the nature of the coca leaf in the final product, but he continued to fight. On occasion, he would criticise the law and those who opposed his products while at other times he claimed there was actually no cocaine in his product.
He managed to carry on for a few years producing a version of his product without cocaine. Since the original ingredients were basically just red wine and cocaine, however, Mariani was essentially selling a standard red wine, which no longer held the same appeal. It wasn't long before it disappeared from the market forever.
Some reports suggest that Mariani weathered the regulatory storm in the U.S. until as late as 1910 but he was unable to reverse his fortunes and died in 1914, a few months before the outbreak of World War 1.
This information was gathered as part of the research for the Ambition & Destiny series. Click here to find out more.
References:
Vin Mariani — The Cocaine-Laced Wine Loved By Popes, Thomas Edison, And Ulysses S. Grant
The Illustrious (& Outrageous) History Of Vin Mariani
Vin Mariani: When Bordeaux Wine Mixed With Coca Took The World By Storm!
Vin Mariani 1
Vin Mariani 2
Back to The Victorian Era