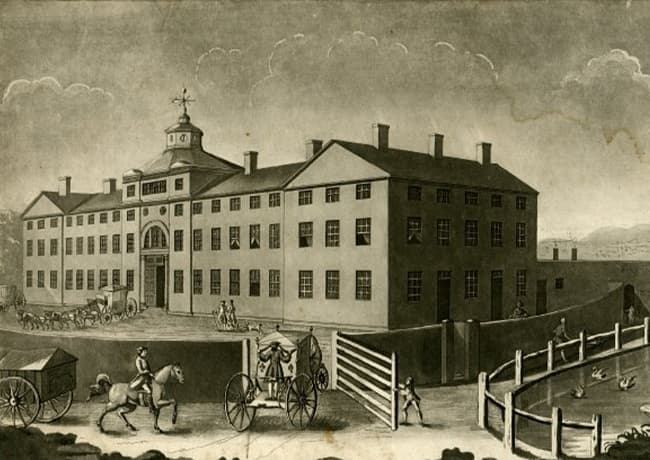 The Soho Manufactory was founded by Boulton & Co. and pioneered the idea of mass production. It was opened in 1766 and came to be one of the largest manufactories in Europe. The design consisted of four squares; with a connecting range of warehouses and shops, large enough to accommodate up to a thousand workmen. It was initially involved with the production of items such as buttons, buckles, watch chains and medals; although it soon became a site for the manufacture of silver-plated wares. Subsequently, it was responsible for the production of elegant works in stone, bronze and ormolu; such as vases, candelabra, clock cases, watch stands, ice pails and many other equally valuable articles.
The success of the early business encouraged the proprietors to embark on the manufacture of wrought plate. By 1788 they built a coining and rolling mill, consisting of eight machines; each capable of striking 70 to 80 pieces of money per minute. Large quantities of medals and foreign coins were struck at this mint.
The Move to Steam Engines
In 1795 Matthew Boulton began construction of the Soho Foundry, about one mile from his Soho Manufactory. This was to be used for the production of steam engines. Designed by the Scottish engineer James Watt, the engines were used in mills and factories that required rotating shaft drives. The foundry was located at Smethwick, near Birmingham, and was opened in 1796.
Matthew Boulton retired in 1800, passing the business to his son, Matthew Robinson Boulton. By the 1840s, production at the original Soho Manufactory had declined and the building was only partly occupied, by J Watt & Co., for the production of steam engines. In 1848 the manufactory closed for business and was subsequently sold by Matthew Boulton's grandson in 1850. It was demolished in 1863 and is now a site for housing.
This information was gathered as part of the research for the Ambition & Destiny series. Click here to find out more.
Back to The Victorian Era